Pooping Balloon Dog - Gold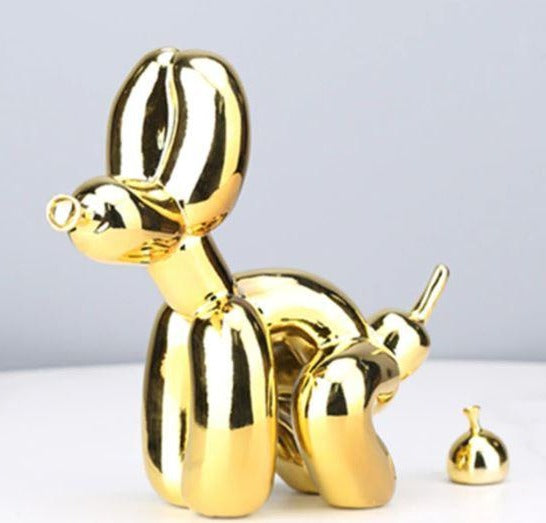 Designer: Luxx Divine
$239.00
or make 4 interest-free payments of $59.75 AUD fortnightly with
More info
**Airline delays due to Global Pandemic**

Your order may arrive 1-2 weeks later do to covid border delays, so please make sure you don't have tight deadlines to receive orders. Shipping upgrades to receive faster may be an extra $30-40 if you want that option.

**Pls Read full description before purchasing**

OVERVIEW:

Introducing a one in a million design. A balloon dog replicated as a resin showpiece, with vibrant colors makes for a stunning decor piece, & the best part being, it doesn't burst! This cheeky pooping dog is a funny conversation piece for any room and a great unique gift.

This playful piece makes a striking addition to any room. Place this statue on a side take or shelf for a unique accent that really pops.

As part of the artists' celebration, an ongoing series of paintings and sculptures that memorialize the rituals, icons, and images surrounding birthdays, holidays, and other party occasions, Balloon Dog (Blue) may be the most imposing work. Using the recognizable form of a balloon twisted into the shape of a dog, the artist has frozen a moment in time, exaggerating both scale and material. Balloon Dog (Blue) is literal and abstract. When standing close to it, one's own distorted reflection bends around smooth pert curves. The work is a collection of shapes, each segment alone does not look like part of a dog's anatomy.

Size:
High: 23cm (9 inches)
Length: 22cm (8.6 inches)
Wide: 9.5cm (3.7 inches)

1 Piece only, comes with the poop!
Material: Resin, metallic chrome plated

*Please choose the colour you want from the drop down menu.

Delivery:

* Free Shipping Worldwide
* Ships from Asia 3PL warehouse
* Delivery time from 'marked shipped' 2-4 weeks worldwide (4 weeks typically during busy seasons)
* No frills packaging to keep costs down
* If more than one purchased, it may come in separate packages, 1-3 days apart to save on customs fees.


PLEASE SELECT YOUR COLOR IN THE DROPDOWN MENU OPTION


Tags:
balloon dog, Animal decor, sculpture, faux taxidermy, circus animals, paper wight, dog decor, home decor, resin dog, metallic dog, circus dog, pop art,
It's only taken eight days to arrive. MEEE loves it. It's funny, as described. The color is beaut...
It's only taken eight days to arrive. MEEE loves it. It's funny, as described. The color is beautiful. It's true, though, that I haven't gotten there with protection in my ducklings.
love it already bought myself one thus was for my dad
love it already bought myself one thus was for my dad