8 inch EU Wall Plate Decorative - Mask Yellow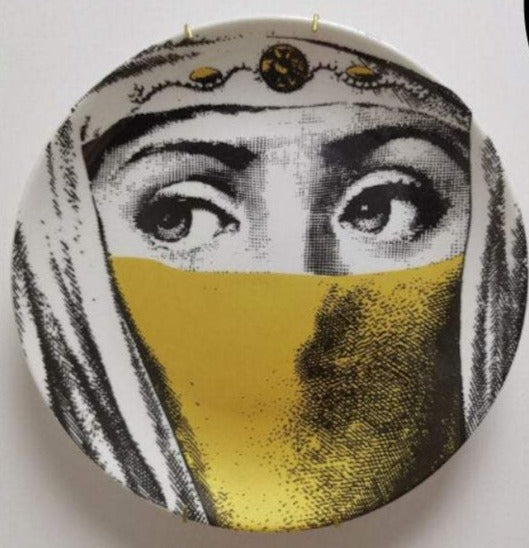 Designer: Luxx Divine
$78.00
or make 4 interest-free payments of $19.50 AUD fortnightly with
More info
**Airline delays due to global pandemic and affects on air cargo and customs**

Your order may arrive 1-2 weeks later do to covid border delays, so please make sure you don't have tight deadlines to receive orders. Shipping upgrades to receive faster may be an extra $30-40 if you want that option.
Delivery for this item is 2-5 weeks - please understand before purchasing.

**Pls Read full description before purchasing**

Elegant & chic European style wall plates. A lovely addition to your home. Change up the look and vibe of your home & kitchen with these stylish Euro decorative wall plates.

A luxe touch of boudoir style as seen in many celebrity homes including the Kardashians.

*Please be reminded that the first primary main-image/ thumbnail in the listing is the design that you will receive. The other images may be customer feedback examples.

* Select from the dropdown menu the design you want

Product Details:

- Size: 8 inches, / 20.5cm wide
- Weight: 1.1 pound / 500 grams
- Material: ceramic porcelain, high gloss finish
- 1 Piece only
- Comes with wall hanging accessory (wall bracket + hook, easy install)
- Handwash only
- Suitable to be used with food in high temperatures, not microwavable.

Who is the subject & Designer Backstory:
Italian designer reproduction of vintage girl face on everyday objects such as plates and trays blends a flair for surrealist art and homeware, with humour and elegance.

She is known as the vintage chic girl, antique ceramic girl. She has been made famous by many reality TV stars having her in their chic living rooms and luxe makeup stations. These Euro plate designs are a must have to show off your style, they are beautiful pieces of art to have around your home.


Delivery:
* Free Shipping worldwide
* Ships from Asia 3PL warehouse
* Delivery time from 'marked shipped' 2-5 weeks worldwide (5 weeks typically during busy seasons such as Covid delays, Christmas or major holidays)
* No frills packaging to keep costs down
* If more than one purchased, it may come in separate packages

Please Note:

* These are reproductions of the original works and have no markings on the back of the plate, please ask any questions before purchasing as we do not accept refunds or exchanges for change of mind.

* If more than 1 is ordered, they will arrive separately to avoid any customs fees in your country. They will typically arrive 1-3 days apart. We are not responsible for any customs fees incurred and will not provide a refund if you refuse to pay the fee and return to sender. We will do our best to help you clear the goods with zero to small fee involved
Perfectly packed. They arrived in perfect condition. I think I'll buy more to fill a wall. Thank ...
Perfectly packed. They arrived in perfect condition. I think I'll buy more to fill a wall. Thank you very much!! The shipment was fast, just 2 weeks to Spain
very happy with my order.
very happy with my order.
Perfect! Perfect! Price sos and at good price! Thank you
Perfect! Perfect! Price sos and at good price! Thank you
Very good object. Quickly delivery
Very good object. Quickly delivery
Satisfied with the purchase, very well packed. All ok, according to article description
Satisfied with the purchase, very well packed. All ok, according to article description