French Bull Dog Table Top - Black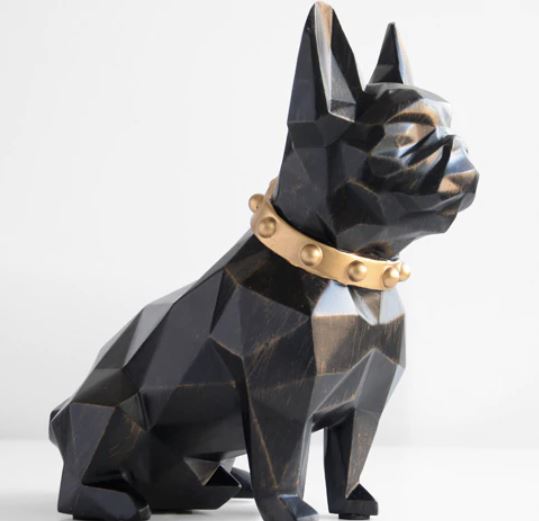 Designer: Luxx Divine
$76.00
or make 4 interest-free payments of $19.00 AUD fortnightly with
More info
**Airline delays due to Global Pandemic**

Your order may arrive 1-2 weeks later do to covid border delays, so please make sure you don't have tight deadlines to receive orders. Shipping upgrades to receive faster may be an extra $30-40 if you want that option.

**Pls Read full description before purchasing**

OVERVIEW:

Introducing a one in a million design. A French bulldog as a resin showpiece, with vibrant colors makes for a stunning decor piece, & the best part being, it doesn't burst!
It's also a money box and can be used as a great conversation piece for a coffee table, book case , hallway entry decor.

This playful piece makes a striking addition to any room. Place this statue on a side take or shelf for a unique accent that really pops.

This is a beautiful piece for any dog lovers, especially for the stylish and adorable French Bull dog pet owners.

*Please choose the colour you want from the drop down menu.

Size:
Centimetres:
19.5 cm Long
18.5 cm High
9.5 cm Wide

Inches:
7.6 inches Long
7.2 inches High
3.74 inches Wide


1 Piece only
Material: Resin

Delivery:

* Free Shipping Worldwide
* Ships from Asia 3PL warehouse
* Delivery time from 'marked shipped' 2-4 weeks worldwide (4 weeks typically during busy seasons)
* No frills packaging to keep costs down
* If more than one purchased, it may come in separate packages, 1-3 days apart to save on customs fees.

PLEASE SELECT YOUR COLOR IN THE DROPDOWN MENU OPTION

Tags:
french bull dog, frenchie dog, Animal decor, sculpture, faux taxidermy, circus animals, paper wight, dog decor, home decor, resin dog, pop art, money box, kids decor dog