Handbag Organizer - Pink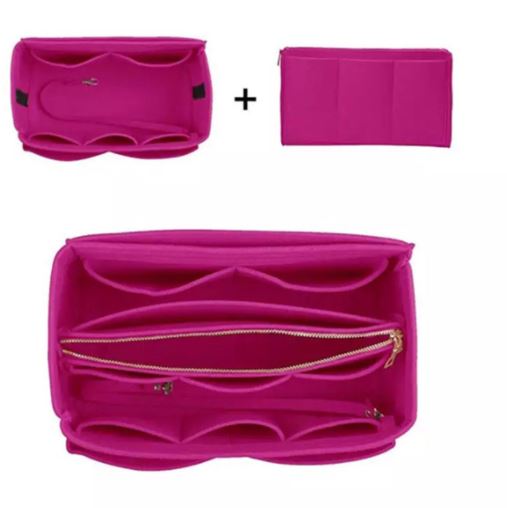 Designer: Luxx Divine
$45.00
or make 4 interest-free payments of $11.25 AUD fortnightly with
More info
**Pls Read full description before purchasing**

The ultimate handbag organizer for your purse. Store all your things in the many compartments so you can find things easily. A great way to see all your bag's contents without rummaging around.
Also a great way to change handbags easily just by removing the bag insert.
This is truly a must have for all women and the best gift for that lady that is hard to buy for.
This is one of those items that you wont be able to live without once you have it, you will never go back to an un-organized bag.

You can also use this as a makeup organizer, toilerty organizer, crafts and stationery.

The felt fabric keeps it's shape, its lightweight.

Product Details:

Size:

Small: 26cm L x 15 cm W (inches: 10.2 inches L x 5.9 inches W)
Medium: 30cm L x 15cm W (11.8 inches L x 6.3 inches W)
Large 34cm L x 17cm W (13.4 inches L x 6.7 inches W)

Comes with a detachable wallet with more pockets.

Material: Felt
Color: many colors available, please choose form dropdown.

Weight:

Small 270g; Medium 300g; Large 420g


Delivery:
* Free Shipping worldwide
* Ships from Asia 3PL warehouse
* Delivery time from 'marked shipped' 2-4 weeks worldwide (4 weeks typically during busy seasons)
* No frills packaging to keep costs down
* If more than one purchased, it may come in separate packages

Please Note:

* These are reproductions of the original works and have no markings of the brand on the item, please ask any questions before purchasing as we do not accept refunds or exchanges for change of mind.

* If more than 1 is ordered, they will arrive separately to avoid any customs fees in your country. They will typically arrive 1-3 days apart. We are not responsible for any customs fees incurred and will not provide a refund if you refuse to pay the fee and return to sender. We will do our best to help you clear the goods with zero to small fee involved.

Tags:
handbag organizer for your handbag, purse insert, purse organizer,
Practice for so many things
Your browser does not support HTML5 video. This is nice and firm so t will hold its form. You can use in a large bag to keep completely organized. Its so nice you can keep on the counter and use for whatever items you want. Doesnt have to be just for bags. So many compartments. . And it has a part to add in and separate with a zippered section
Can be used for more than just a purse
So I recently cleaned out my car inside and out. I wanted to make it as comfortable as possible and make it a friendly environment that I would want to be in. I have a 2015 Nissan Sentra and it doesn't have very much space or storage units. So I decided to use this purse organizer as a storage unit for my car and I absolutely love it. Not only does it give me more space and I can store things, everything is easily at reach. I put Velcro on the bottom of it so I can easily remove it but have it stay in place while I'm driving.
Exactly what I needed.
The felt liner was the perfect fit for my Neverfull MM. It's got a ton of pockets suitable for everything you may need it for. It's well made and came fast- which HELLO, satisfies my instant gratification. I went with the Large size and it fits perfectly. To give you an idea of what size you may need, my Neverfull is 12.6 x 11.4 x 6.7.
Great color nice lightweight felt
I really like the size of this organizer. I bought the medium size and it fits so many of my everyday bags.Fossil Rachel Bag (speedy/Boston bag shape)First photoKate Spade Structured satchel top handle bagSecond photoRalph Lauren medium tote bagThird photoIt fit perfectly without loosing its structure which is a big reason I bought this felt organizer. Ive used the satin cloth kind and they tend to loose shape inside my bag.I also love the color. It allows me to see what is on the inside of my bag!! This organizer is not as heavy as other brands Ive used. So if you have a thick heavy leather bag this probably wont handle the weight of that without loosing some shape.However for me with these 3 different kind of everyday bags I prefer this lighter felt in order to lighten the total weight of my bag. Especially carrying it all day.I will be buying all 3 sizes! Love this purchase
Fits the Coach City Tote
Got X-Large for my Coach City Tote. Fits perfectly, the material is sturdy. Bag measurement for reference 13" (L) x 11 1/2" (H) x 6 1/4" (W)