Multifunction Pillow - Gray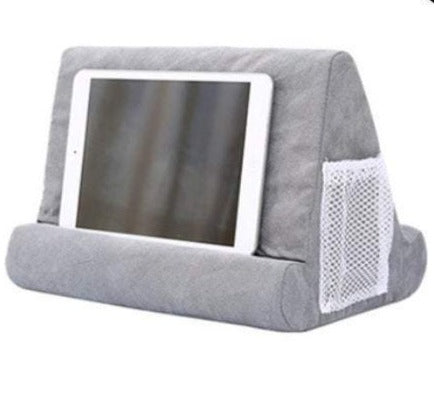 Designer: Luxx Divine
$26.00
or make 4 interest-free payments of $6.50 AUD fortnightly with
More info
Estimated shipping time for this item: 2-5 weeks.

**Airline delays due to border and air cargo**

Pls understand this when purchasing this item.

Your order may arrive 1-2 weeks later do to covid border delays, so please make sure you don't have tight deadlines to receive orders. Shipping upgrades to receive faster may be an extra $30-40 if you want that option.


This is the ideal pillow for browsing your phone or ipad when on the couch, in bed.
A must have for people who love watching videos or video calling.
You can also use this for reading books and magazines.
I guarantee this pillow will make lock-downs a little bit easier. No more hand straining for holding your phone.

Can use the 3 sides of the pillow and has a pouch for your phone, headphones or pens.

Size:
28 cm long (11 inches)
22 cm high (8.6 inches)

Delivery:
* Free Shipping worldwide
* Ships from Asia 3PL warehouse
* Delivery time from 'marked shipped' 2-5 weeks worldwide (5 weeks typically during busy seasons such as Covid delays, Christmas or major holidays)
* No frills packaging to keep costs down
* If more than one purchased, it may come in separate packages

Please Note:

* These are reproductions of the original works and have no markings of the brand on the item, please ask any questions before purchasing as we do not accept refunds or exchanges for change of mind.

* If more than 1 is ordered, they will arrive separately to avoid any customs fees in your country. They will typically arrive 1-3 days apart. We are not responsible for any customs fees incurred and will not provide a refund if you refuse to pay the fee and return to sender. We will do our best to help you clear the goods with zero to small fee involved.

Tags:
phone holder pillow, ipad pillow, reading pillow, couch phone cover, ipad holder, pillow for phone, book holder, book helper,
It holds everything.
Use for my tablet and Celphone love the sturdiness and stability and the versatility of the hold thing.
GREAT PRODUCT
It is nice to have this for my iPad. Excellent product and price
Use everyday
Love this little device. Has made it so much nicer on my neck not looking so far down when I'm in my chair using my iPad.
love love love
excellent product! gets rid of hand fatigue when working on your devices. sturdy enough to hold up even my large laptop
Great for your tablet
My daughter loves how lightweight it is and it will still hold up her tablet.