Pin-up Painter Canvas - Pop Art 2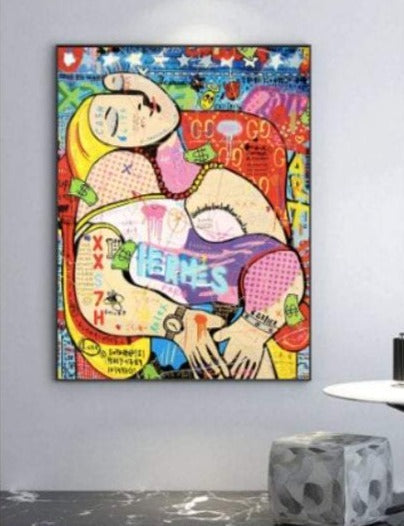 Designer: Luxx Divine
$15.00
or make 4 interest-free payments of $3.75 AUD fortnightly with
More info
**Pls Read full description before purchasing**

**Airline delays due to global border disruptions**

Your order may arrive 1-2 weeks later do to covid border delays, so please make sure you don't have tight deadlines to receive orders. Shipping upgrades to receive faster may be an extra $30-40 if you want that option.


Elegant & chic Graffiti Pop Art Canvas Print. A lovely addition to your home. Change up the look and vibe of your home & bedroom with these stylish Euro decorative canvas wall prints.

A luxe touch of boudoir style as seen in many celebrity homes including the Kardashians.

Product Details:

Sizes:
A3 30x40 Centimeters (11.8 inches x 15.7)
50x60 Centimeters (19.6 inches x 23.6)
70x90 Centimeters (27.5 inches x 35.4)

Select option in dropdown menu

Canvas material
Vivid colors
NO FRAME, Canvas only
NO FRAME, Canvas only

*Other sizes available in my shop: Canvas prints section


- 1 Piece only
- No Frame / Only Canvas print only. (You must purchase a frame or black canvas print from your local store)
- Material Canvas Painting (Not Hand Oil Painting)
- Extra 3-4cm border is included for the frame which you can cut or fold over wooden frame.
- If received with any creases, use hair dryer on low heat to soften canvas and remove the creases. Or a very low heat iron - fast strokes, using a towel between the canvas and iron. Be careful not to burn it.

- To keep down the shipping cost and avoid the frame damage from shipping there is: No mat, no inside frame, no outside frame , only canvas.


Delivery:
* Free Shipping worldwide
* Ships from Asia 3PL warehouse
* Delivery time from 'marked shipped' 2-4 weeks worldwide (4 weeks typically during busy seasons)
* No frills packaging to keep costs down
* If more than one purchased, it may come in separate packages

Please Note:

* These are reproductions of the original works and have no markings on the back of the plate, please ask any questions before purchasing as we do not accept refunds or exchanges for change of mind.

* If more than 1 is ordered, they will arrive separately to avoid any customs fees in your country. They will typically arrive 1-3 days apart. We are not responsible for any customs fees incurred and will not provide a refund if you refuse to pay the fee and return to sender. We will do our best to help you clear the goods with zero to small fee involved.

tags:
wall art, balloon art, graffiti art, pink dog art, retro wall art, chic wall art, ballon dog art, kids art, pop art, colorful art, quirky art, balloon dog canvas,
Very fast shipping, very good product quality. Excellent.
Very fast shipping, very good product quality. Excellent.
Good quality, colors as photo. Arrived very quickly. Packed very well. Very satisfied, the consilio
Good quality, colors as photo. Arrived very quickly. Packed very well. Very satisfied, the consilio